Oaksway Netball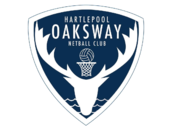 Oaksway Netball
Developing the netball talent of the future
Timeline and Honours

U16 Regional League
Winners 2014, 2015

U14 Regional League
Winners 2014, 2016

Goalden Globe Awards
Outstanding Club 2010

U19 National Club Championship
Champions 2001, 2002

U16 National Club Championship
Champions 1999
Regional Superleague
Winners 1994
1983
Oaksway Netball Club was founded by a group of friends in Hartlepool in 1983. Originally, only made up of a few senior members, the club entered a team into the local County League. Over the next few years and with much hard work and determination, Oaksway membership grew and more teams were entered in the other local leagues and across a number of age groups. The Senior First Team progressed into the North East Regional Superleague and became the dominant team in the North East.
1992
Oaksway expanded its junior section and, with the assistance of Hartlepool Sports Development Officers, set up coaching sessions across all age groups from age 11 and upwards. Oaksway teams of all ages soon became formidable opponents in their matches, competing at National level, winning National U16, U18 and U21 titles along the way and supplying a number of England Junior internationals. The senior teams continued to develop and worked through the National League system and to this day maintain their place in National Premier Division 1.
1994
After winning the Regional Superleague, Oaksway became the only North East team to win a place in the National 4th Division.
2009
Oaksway supply a large number of senior players to a number of National Superleague teams. The junior sections continue to thrive, with training sessions for different age groups held most evenings. Each training session is run by qualified coaches who have themselves formerly been junior club members. Oaksway junior players make up the majority of the North East Talent Squad and currently provide a number of England Squad members at U17 and U19 level.
September 2010
Oaksway won the title of Outstanding Netball Club at the Goalden Globe Awards 2010.
The following is an excerpt from the press release:
"Oaksway NC develops Netball from grassroots to National level. They developed and led a High 5s initiative in Hartlepool, that has now been agreed to be and implemented throughout their county. The club has C and B qualified officials, who officiate up to Super League level. The club provided umpires for England v Team Northumbria for a demonstration match at Sunderland University. They have Coaches ranging from beginner to Level 3, some who coach at Academies and in the Super League. It recruits its coaches and umpires, in-house, by encouraging juniors to do YNO/YUA awards, mentoring, and by putting coaches and umpires through qualifications. Through the firm partnerships, Oaksway have had key roles in coaching school teams in preparation for cluster festivals and have attended and provided umpires and volunteers for each cluster festival held by the SSP. Oaksway have Gold CAPS and were selected to become a partner of Hartlepool Sporting Association due to their commitment to Clubmark standards."
March 2016
Oaksway U14's are National Clubs Regional Winners
May 2016
The U14's team reach 5th at the National Clubs Finals
Follow the site to get the latest news and results straight to your email