Oaksway Netball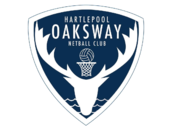 Oaksway Netball
Developing the netball talent of the future
Oaksway Netball
Our aim is to develop the netballing talent of the future
Oaksway Netball Club continues to develop the netballing talent of the future to emulate the stream of England internationals the club has produced over the years.
Oaksway has netballing academies for its talented players as well as 'acorn' groups where girls learn the game and are developed through the ranks.
Coach Barbara Brown added "We are classed as a performance club and nurture our players from a very early age. My girls also go out and coach to so we put something back into the community."
The England Netball Affiliated Gold CAPS (Club Action Planning Scheme) award club has again had a successful year on and off the court, with the new season promising new developments for the club and some great netball!
Oaksway teams compete at county, regional and national level. In addition, some of our youngsters compete in the Northern League after we successfully qualified in 2015. It is a great opportunity for our youngsters to play against the best teams from across the northern region!
Join Our Club!
We are always recruiting new players of all ages - why not come along and give netball a try!
Primary school children aged 5 and above are welcome at the 'Acorns' session on Fridays at 5.30pm - 6.30pm for Years 1/2/3 and 6.30pm - 8.30pm for Years 5/6 at Brierton Sports Centre, Hartlepool. Just turn up and have a go! From here the coaches will decide which session is most appropriate to meet your needs. When you do come along remember to wear some trainers because you will be working hard and a drink of water to rehydrate. Parents are welcome to stay at this session until the children feel comfortable to be left alone.
Senior school children aged 12 and above are welcome to attend the 'Junior' session on Tuesdays at 7.00pm - 9.00pm for Years 7/8 and Wednesdays 6.00pm - 8.00pm for Years 9/10 at Brierton Sports Centre. Come along and have a go and the coaches will decide which of the club training nights are best suited to meet your training and playing needs. Please wear appropriate training shoes and sportswear because you will be working hard!
If you are aged 16 and above and keen to get involved in playing netball at our club, then please contact Head Coach Barbara Brown via the Contacts page. Senior training sessions are on Wednesdays 8.00pm - 10.00pm at Brierton Sports Centre.
Print the relevant document from the Documents > Forms page and bring it along. We look forward to meeting you soon!
Click here to get in touch.
Follow the site to get the latest news and results straight to your email
Contact List